Best Damascus Kitchen Knife Set of 2021
80% Chefs are addicted to this damascus knife's appearance, would you like to see it?
Question: What type of kitchen knife do you like?
If we put this question into three years ago. The answer is nothing more than a German knife, a Japanese knife, or a Chinese knife. Today, you will find that these knives are still used by everyone, but more and more people are beginning to use Damascus kitchen knives. When it comes to reasons, people often say 2 words: fashion and precious.
These two years, Damascus kitchen knives has become more and more popular and common in people. and many people have fallen in love with its appearance and value.
What exactly is a Damascus kitchen knife? What is the difference between it and other knives? Next, I will tell you the answer in the most simple language, and I will recommend a beautiful, unexpensive Damascus kitchen knives for you.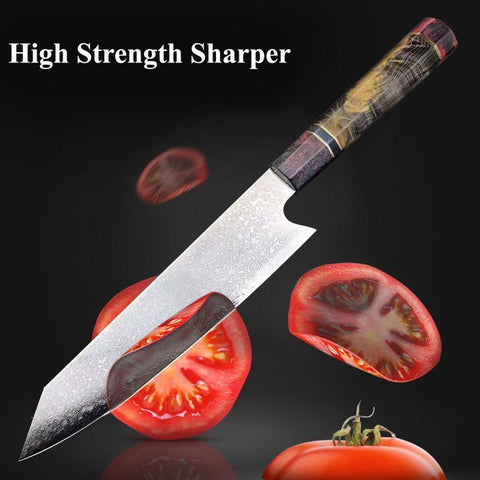 1. Inside story of pattern of knife
The pattern is distinctly a sign of a good knife. If the blade of a knife is covered with patterns, it means that it was made by folding and forging, and the pattern has gradually become synonymous of folding and forging, and has also become a symbol of the treasure knife. Over time, a lot of pattern lover appeared.
2. One of pattern is lazer pattern 
Laser pattern is relatively fast, this is a method of imitating Damascus knife patterns. Due to avoid the complexity of forging, the price of laser patterns will be lower than that of Damascus knives. Therefore, when choosing a kitchen knife, you need to consider your own real needs and price.
3. Another pattern is Damascus pattern
The Damascus pattern is the pattern of the knife itself. It belongs to the cast pattern, which is different from the magic of the welded pattern steel (including Chinese swords, Malay knives, etc.) or quenched pattern steel (Japanese swords) formed by folding forging. The Damascus pattern is a symbol of sharpness and preciousness. The more forged layers, the finer the pattern is. The fewer the forged layers, the rougher the pattern is. Modern collectors not only value the utility of Damascus kitchen knives, but also pay attention to the patterns of Damascus kitchen knives. It l has gradually become a popular art. The Damascus pattern feels a little bumpy which is different from other ches knives.
When we have enough free money, why don't we try a Damascus knife set? —The "popular lover" in kitchen knives.
The kitchen chef knife is made of 67 layers of Damascus. The steel core adopts Japanese vg10, with high sharpness, corrosion resistance, rust prevention and toughness. Cutting the core at 60 ± 2 Hrc hardness improves the overall ductility of the chef's knife.
Of course, there are a lot of Damascus knives, and people often ask, "Which one is best to use?"
In fact, everyone's preferences are different. There is no standard. There are three common patterns of Damascus pattern on the market. Which one do you like?
Firstly, Ladder pattern damascus knife.

Secondly, Twist pattern damascus knife.
What I recommend to you today is Letcase's professional Damascus chef knife, which belongs to the third type, fish bone pattern.
The first two patterns of knives belong to individual players, some people love, some people do not like it. A fishbone Damascus knife is like a "popular lover" in kitchen knife. Most people think it's good if they buy it, at least they won't reject it. The fishbone pattern is extremely ornamental and will not wear out with the pass of time. After a few years, the look is still unique, which makes you reluctant to change the knife set.
When you buy this Damascus chef knife to home and unpack it, you will find that its pattern is very beautiful. Beautiful and upscale. The knife will appear particularly bright under the light, but not dazzling.
When you hold it in your hand for the first time, you will suddenly surprised that the knife can be so beautiful, and the blade can have such a bumpy feeling.
When you use this knife to cut vegetables、meat first time, you will suddenly astonished that it can be so easy to cut things. The tip of the knife hardly leaves the chopping board, lift the back half of the knife body, gently cut, the food is just fine, and it still maintains the original deliciousness of the ingredients without destroying the internal texture of the food.
At the same time, you will delighted when you put it in your hand, it feels so comfortable. It has the high-quality G10 handle of the chef's knife, triple riveted on the handle, has higher strength and durability. The ergonomic shape of the handle is carefully designed so that it will not feel tired and uncomfortable even if it is used for a long time, which is very suitable for people who often cook or like the kitchen.
The legendary world-famous Damascus knife has been loved by many professional chefs and cooking starters in recent years. It can be used not only by yourself, but also could be a gift. You can buy it today. Do you want to try it?
After several rounds of discussion and selection, the LETCASE team chose this kind of Damascus knife set with this fishbone pattern and start to sale it. The following is the feedback of some customers: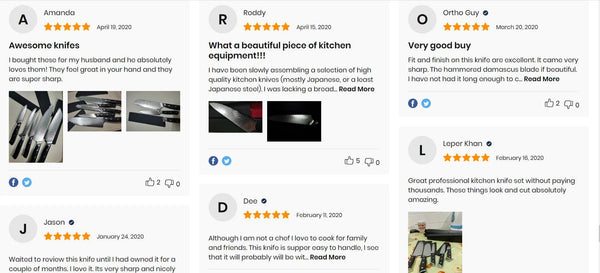 Everyone has rated well at this hand forged Damascus kitchen knife set, how much does it cost?
There are different types of Damascus knives, there are five main types: Chef knives, Santoku knives, Deboning knives, Universal knives, Fruit knives. The Letcase team learned that the price of a single Damascus knife that meets this process standard is generally more than $150. Considering the impact of the epidemic, our team decided to sell it to those who really know and love the knife at a relative low price.
" Single 8 Inch Damascus Chef Knife: $99 ($159)
2 Pieces Damascus Knife Set(8 inch chef knife&5 inch utility knife): $129 ($199)
3 Pieces Damascus Knife Set(8 inch chef knife&6 inch boning knife&3.5 inch fruit knife): $169 ($259)
3 Pieces Damascus Knife Set(8 inch chef knife&7 inch santoku knife&6 inch boning knife&5 inch utility knife&3.5 inch fruit knife): $259 ($389) "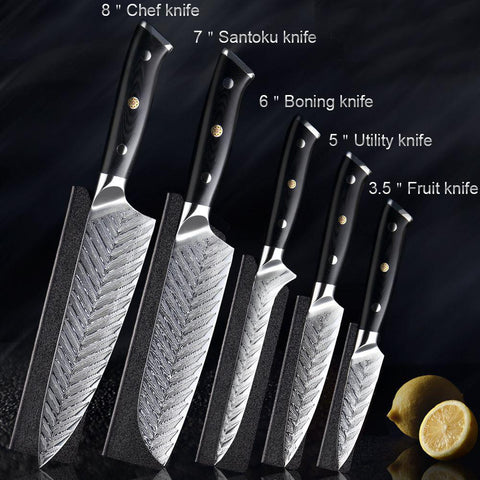 Letcase hand forged damascus steel chef knife set start from a raw steel, it needs to go through 16 processes,168 hours of delicately crafted. After this ,it becomes a high-quality,nice looking knife in your hand. If youare seeing this message there are still knives available.
Not only won't this damascus kitchen knife out of fashion, but it will also have collectible value. At the same time, owning a set of Damascus knives can also reflect your taste and social status. If you want to give someone as a gife, you can also make friends feel that he is important. The knife comes with a beautiful gift box, and each knife is equipped with a knife cover. It is the best gift ideas for friends and family.
This knife set is the best damascus kitchen knife set of 2021, I bet you'll love it. And your life、family or friends deserve it .
---
See also: