Top 5 best cleaver knives in 2021
When you walk into any professional kitchen, you'll be dazzled and surprised about so many kinds of tools for them to prepare fabulous dishes. Of course, if you are a home chef of cook beginners, you don't need to worry, there are 4 commons frequently used knife: a chef's knife, a paring knife, a fillet knife, and a meat cleaver knife.
Among these, the meat cleaver knife is also known as a bone chopper that can handle some tasks that the chef's knife can't.
Believe me, you don't want to use delicate tools like your beautiful Damascus chef knife to cut through animal flesh and bone, do like this will damage your chef knife. thus, a meat cleaver can come to effect to break down meat, with the purpose of hewing through small to medium bones and gristly connective tissue.
However, you may don't know how to choose the right meat cleaver knives. Don't worry, we've spent time selecting for you, we felt that we could recommend these 5 meat butcher knife for you.
List of Best Cleaver Knifes in 2021:
As we can see from the picture, it's old-fashioned, right? This looks like a kitchen knife used by grandfather and grandmother in memory. If you are a particularly nostalgic person, then this knife is your best choice.
This butcher knife is a high-quality forged knife with a color wood handle, features traditional hot-forging procedures mixed with modern heat treatment technology. This hand-forged butcher knife is sharpened manually by workers with more than 30 years of experience by using natural knife grinders mined from Mount Emei. Compared with kitchen knives made with mechanical ways, the service life of such knives is longer.
Features:
Forged process: hand-forged craft adds the durability of the knife and find the equilibrium between the rigidity and tenacity.
The old-fashioned look makes it full of old memory.
Black Pakka wood handle: this handle material feature a cheap price but high performance, it's a tenacious wood to provide a comfortable grip.
Polymer sheath: this cleaver knife comes with a Polymer sheath which is also an old-fashioned look and can store the knife safely
This Letcase handmade butcher knife is made from Japanese high-carbon stainless steel and ebony wood handle.it looks more modern-style. The blade has a nice curve to the belly for rocking when needed, the full-tang design adds stability, heft which makes the knife well- balanced for accurate cutting and fatigue-free use.
Features:
Old Tradition Hand Forged: In the quenching - Hammer -tempering- clamping steel - Hammer -quenching- tempering and other continuous cycle operations. Knife pattern was formed during the forged process, that why each knife is different.
Sharp and thick blade: Selected premium high-carbon steel, repeated forging and folding, high hardness, and sharp blade. easily cut things with bone.
Radian curve design, this little change design can maximize the protection of your fingers.
Ebony and mirror-polished handle: easy to hold and non-slip, it can provide a good user experience when you use this knife.in addition, the fashion steel head design makes the knife shiny and special in your hand.
Full tang design: This design added stability, strength, and sturdiness of a knife which can provide a good touch feeling. Less easy to feel fatigued after a long time use.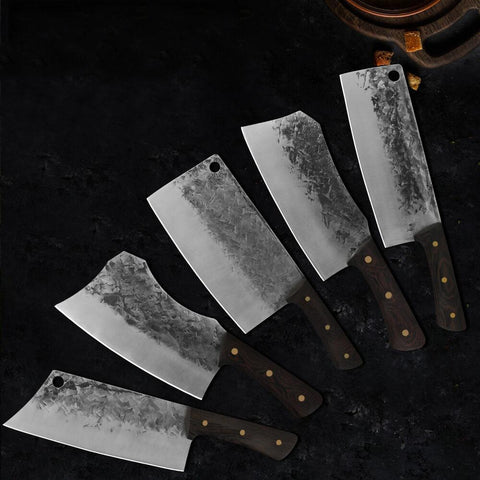 This Letcase hand-forged meat cleaver has a variety of choices, it provides 5 different blade shape. The Hand-forged cleaver knives is a great beauty, impeccable performance this strong design with good strength, durability. the pattern of the blade can prove this point.
According to its special shape and pattern, it could be a special gift idea for Christmas, fathers day, mother's day, birthday, and more. what's more, it's definitely a cost-effective cleaver knife.
Features:
Hooking hole: There is a hole on the blade which helps for safe storage and you don't need to worry about suddenly drop out.
Forged craft: the pattern on the blade is formed in the repeat folding and forging process. the blade is tough, durable, easy to sharpen, anti-rust, anti-bacterial,anti-corrosion.
Textured handle: the handle is made of Pakkawood makes it look like colorful texture.
The handle is made of Pakkawood makes it look like colorful texture, which adds elegance of knife. the wood handle is thick and hard which makes it avoid being cracked or deformed.
Full-tang design with three stainless steel rivets: These properties adds to the effective balance for extended use.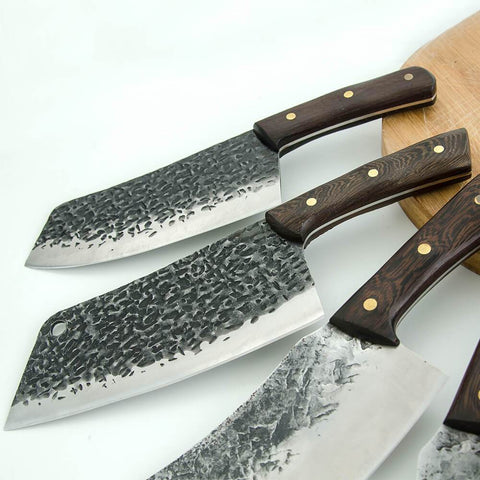 This is a 100% hand-made knife: It is made of high-carbon stainless steel Clad Steel blade. Its operation process is very complicated. If you are interested in handicrafts, you can choose this knife.
Feature:
High carbon steel: This cleaver is made of high-carbon stainless steel with 55 HRC for great toughness, the blade has a long-lasting edge and optimal durability. high-quality steel also has excellent stain resistance.
100% hand-made: Hand ground to 16-18 degrees per side, thus the cutting edge provides clean, efficient cuts effortlessly, it's also easy to quick re-sharpen the knife edge.
A convenient hole: there's a hole at the back of the handle facilitates for safe storage.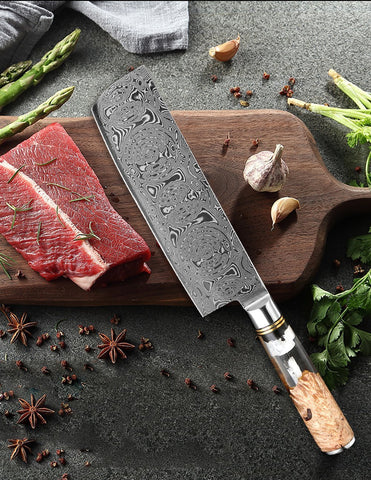 The Letcase Powder Damascus steel cleaver is a little different to other meat cleavers we have reviewed. Powder Damascus steel is a steel which is better than popular VG-10. The hardness of the whole knife reaches 60HRC. The surface is polished fine. Corrosion resistant and tough. Clear edges, more durable and sharper.
Features:
Multi-function knife: This good-looking knife is not only cut into vegetables, fruits, and meat but also can be used as a butcher knife for small and medium-hard objects.
Lightweight: As you can from the picture, it is very light which makes it easy to hold in hand and cut precisely.
Visually stunning pattern: the rose pattern is beautiful, stylish, and eye-catching, it's also a good decoration for display or as a collection at home.
Ergonomic resin stabilized wood handle: this cleaver knife is made of transparent resin and color wood. You can see the inside structure of the wood handle. durable and ergonomic at the same time, it's corrosion-resistant which is good for your hygiene and health.
Of course, according to its high-quality steel and special craft, the price of this knife is a little expensive.
Before we decide to purchase a meat cleaver knife, we need to know how to use it appropriately. after all, you can't use any part of the knife for cutting bones. unless you don't want to use your knife for a long time.
How to use meat cleaver knife?
You can't use the tip of the knife for chopping bones which will make the blade crack. Generally, you should know this principle: The front 3/4 is used for slicing and shredding, and the back 1/4 is used for chopping chicken and duck and etc.
The sharp thin edge can easily slice, mince, and dice. if you want to cut paper-thin salmon slices for sushi or nice pieces of vegetables, then you can use the While the other blunt edge comes in use the front 3/4 of the blade. However, if you want to tender or pound meat, then the back 1/4 is your choice.
Another stand out point is you can use the wide butcher knife surface for smashing garlic, ginger, and transporting ingredients from chopping board to your pot.
Conclusion:
If you are looking for a cleaver to help you chop ingredients in the kitchen easily, you can't waste your money by choosing one of the above Top 5 best Cleaver Knifes in 2020. You will find one that best suits your needs in consideration of handle preference, weight, and budget among others.
---