Best Japanese Damascus Chef Knives to Buy in 2020
In terms of eating, the sensitivity of the tongue is closely related to the kitchen knife. The sharpness of a good kitchen knife will change the taste of food. Therefore, a sharp and professional kitchen knife is the greatest respect for ingredients!
I think this is the inside sincere voice of every chef, do you agree?
Regards sharpness, we highly recommend kitchen Damascus knives set.
Why we recommend Damascus kitchen knives?
1. The grain of Damascus knife is dense enough
In the process of repeated folding and forging, uniform and dense grains of Damascus steel are formed. Because the grains are small and dense enough, so, it's possible to grind a particularly thin blade.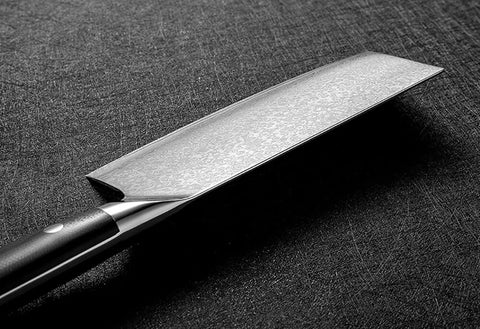 2. The Damascus steel blade conceals tiny serrations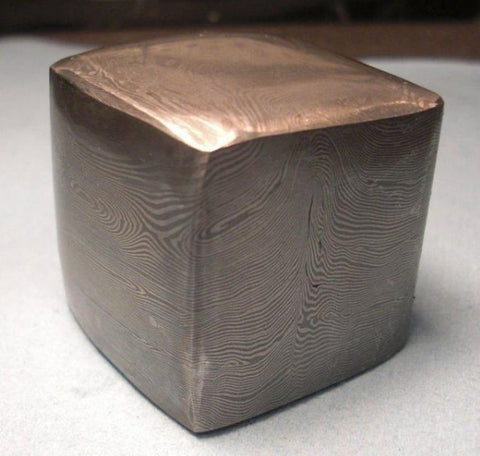 We all know that Damascus steel is repeatedly folded and forged from a variety of soft and hard steels, it is formed with winding and zigzag pattern as showned above. Therefore, after being polished into a blade, with countless microscopic serrations, the cutting edge is sharper than ordinary swords.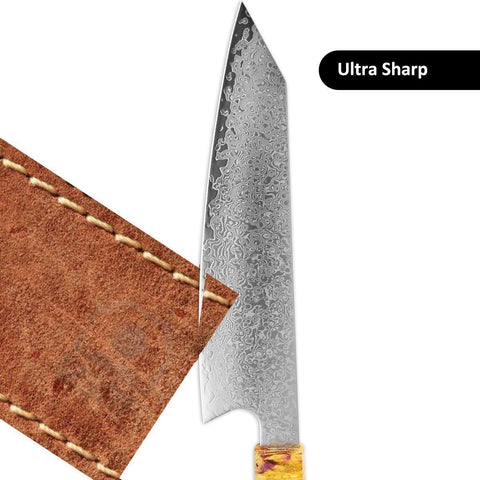 3. Damascus knife is hard enough
Damascus steel is quenched, after this process, the hardness can up to 60hrc. The ordinary knife are generally with hardness of 56hrc.in general, a knife with 58hrc can be considered a good knife. The super-hard cutting edge is undoubtedly very sharp, because too soft steel is very easy to curl, and the burrs formed by the curl will greatly affect the sharpness.
4. Damascus steel kitchen knives have high malleability
If the hardness of the knife is too high, the knife is easier to break. naturally, the kitchen knife is not good if it is as hard as possible. The soft steel mixed in Damascus steel can cushion the pressure to ensure we use Damascus knives cut iron without breaking the edge.
5. Damascus steel kitchen knives have sufficient edge retention
Don't like other kind of kitchen knives, begin with high performance, after several times of use, the edge of the blade will be damaged. If it is repeatedly sharpened in wrong way, it will drop the steel and destroy the blade. The edge retention of Damascus steel is also related to folding and forging workmanship.
Using plasticine as an example, you can see what forging and folding process is.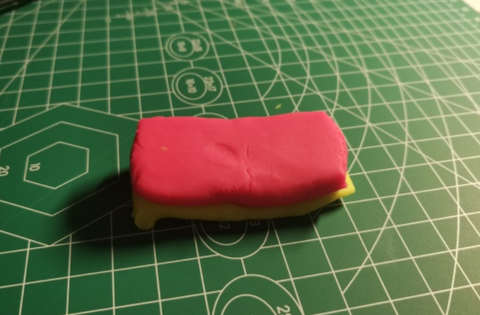 Mixed with different materials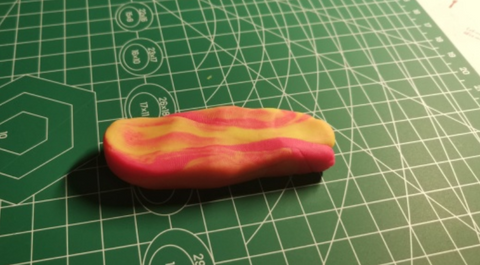 Repeated forging and folding
Then we'll recommend you some Damascus kitchen knives.
Best kitchen Damascus steel knives of 2020
Because of this knife, 3 stars cooking skills can suddenly straight up to 5 stars; Before, when you cut food, the slices are always be thick or be thin; But now, the slices are intact, and the thickness is indistinguishable; the section of ingredients are neatly, not sticking, not slag. and when you place these slices in the plate, It's as good as the food in a five-star restaurant. Do you like this kind of knife?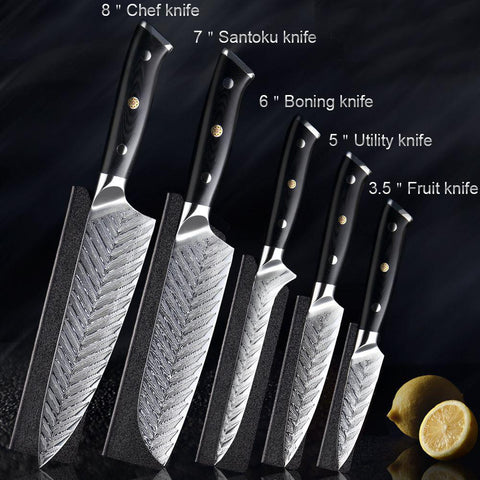 Blade material: SUPER AUS-10 STEEL, 67-layer Damascus WITH VG10 blade core
Handle material: High-end G10 handle ,Ergonomic and comfortable
Blade hardness: 60±2HRC
Blade pattern: Fishbone Damascus pattern, Exquisite and beautiful
Blade: Strong corrosion resistance, full toughness, durable
A good knife can retain the original taste of delicious food.
Blade material: 67-layer VG10 Damascus STEEL
Handle material: HAND STABLIZED WOOD, mirror polished
Workmanship: Vacuum deep cooling heat treatment
Blade hardness: 59±1HRC
Blade pattern: Damascus pattern, elegant and beautiful
Blade: Strong corrosion resistance, durable, Persistence sharpness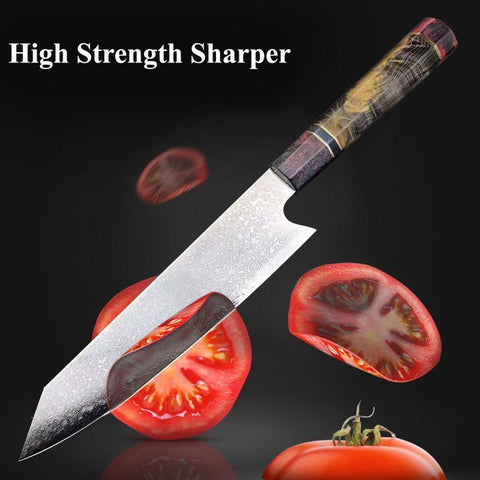 When cutting the potatoes and tofu, the cut pieces will not be absorbed on the knife because it's uneven surface of the knife. The elegant knife body clearly shows that this knife is a good helper for every man who loves to cook.
This multi-purpose kitchen knife, intimately designed anti-slip labor-saving handle, sharp blade; air-hole knife surface don't stick the cutting pieces, is very suitable for cutting soft ingredients .and you can use it with less effort.after using it for a few meals, I finally feel that I have encountered true love ! Good food must have a good knife so as not to waste the ingredients.
Things with a unique appearance have always been favored by people. This chef's knife,Engineering comfortable grip design, easy to cut and shape, shows your taste and social status with every part.
Lightweight, fast, man's knife
Hammed thousands of times are only to give you good memories, do whatever dishes you want and leave a good memory to the people you care.
Workmanship: High temperature forging, eliminating impurities to make the steel more pure, stronger and harder; Polishing multiple times makes the hand feel better when holding, and make overall appearance is elegant
Blade: thickened blade, not easy to break when cutting
Handle: The handle fits the hand shape, anti-slip and anti-off hand
A good knife interprets the attitude of life, companionship is also eternal. And the perfect retention of Damascus steel kitchen knife makes you feel at ease when you are cooking. I believe that everyone has a soft and gentle heart. If you can cook for your loved ones, and watching them eat happily, the satisfaction in your heart is not uncommon in ordinary circumstances.
Choose one Damascus kitchen knives and cook for the people you care.
Don't wait.
---
See also: